Jungle Bungy Jump,
61/3 Wichitsongkram, Kathu, Phuket 83120,
Tel: 076 321 351
(+66 76 321 351)
Phuket Jungle Bungy Jump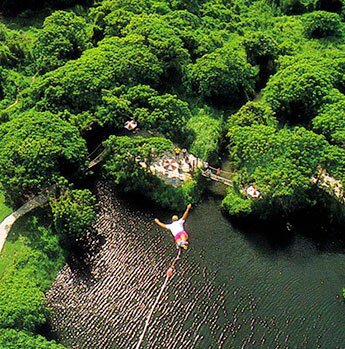 Open From 9am Until Last Jump Time at 5pm
Just 20 minutes drive from the noisy urban centre of Patong lies Phuket's Jungle Bungy Jump overlooking a tranquil lagoon surrounded by dense emerald forest. This lovely setting has been a memorable backdrop for people experiencing the thrill of bungy jumping in Thailand for more than twenty years.
With New Zealand and Australian owners, Thailand's original bungy jump operation is run strictly according to New Zealand bungy standards and is proud to have enabled many thousands of people to safely feel the thrill of this exhilarating activity.
Visitors can book direct and commission-free using the form on the booking page. While its always advisable to book in advance its not compulsory as we can usually accommodate even large groups that turn up on a casual basis.
We hope to see you soon and to help you have the thrill of your life !
Party-Time at the Jungle Bungy Jump

Bungy jumping is a great way to spend time with friends or to build team spirit within your business.
With a great viewing area and plenty of refreshments available we welcome large groups for fun and relaxation [Read More]
Detailed Information About Phuket's Jungle Bungy Jump

How high is it ? What are the weight and age limits ? Can I be dunked in the water ?
Whatever your questions regarding the actual bungy jump, you will probably find the answer on this page. [Read More]
Pricing Information & Direct Booking Online

We offer a range of packages to suit different budgets and requirements.
All prices are listed along with an optional online booking form if you wish to book direct with us. [Read More]
Map & Directions to the Phuket Jungle Bungy Jump

Most Phuket taxi drivers know our location but if you strike one new to the island or if you are making your own way there then full directions are available on this page.
Alternatively, pre-book direct with us and transport can be provided. [Read More]