Open from 9am Every Day
Last Jump Time is 5pm
Phone 076 321 351
For
Bookings & Pickup
from Your Hotel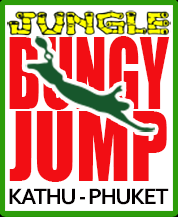 Jungle Bungy Jump,
61/3 Wichitsongkram, Kathu, Phuket 83120,
Tel: 076 321 351
(+66 76 321 351)
About the Bungy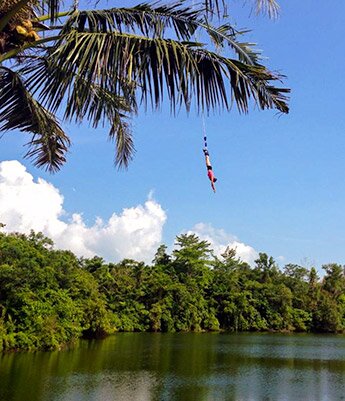 The bungy jump rises 50 metres (165 ft) above a natural lagoon surrounded by dark green jungle.
A birds-eye view of this beautiful setting has been an unforgettable part of many people's Thailand experience over our 23 years of operation. It might be fair to say, however, that some jumpers don't get to appreciate it as much as they could due to the excitement of doing their first jump (its also difficult to see with your eyes closed).
If this happens to you then the solution is simple ... do it again ! The second time round a bungy jump is often more exhilarating as you've already conquered your fear.
Jumpers can choose to stay dry or to be dunked in the water and for those who want to try something a little different from the classic solo jump we offer both tandem and catapult variations. All options can be arranged with the jumpmasters prior to weighing-in.
On the ground the view is still impressive from the waterside viewing area where spectators can relax at tables with a cold drink and watch the jumpers leap from the platform directly above.
The Bungy Jump Options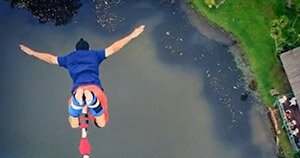 Cassic Solo Bungy Jump
This is the jump familiar to most where you leap arms-outstretched in a graceful swandive...or at least thats the ideal way to do it. We don't award style points so as long as you go off the platform head first and obey the jumpmaster's instructions about what not to do then you are free to express yourself.
All who jump are awarded the Jungle Bungy Jump "Certificate of Courage" because they've earned it !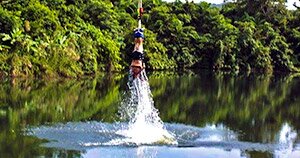 Water Touch Bungy Jump
As the bungy overhangs at the edge of a large natural lagoon, jumpers can choose between staying dry and getting wet. Our skilled crew can calibrate so that the maximum extension of the cord pulls you up within inches of the water or allow it to extend so that you wil be partially dipped into it. The choice is yours and is by arrangement with the jumpmaster at weigh-in time immediately prior to jumping.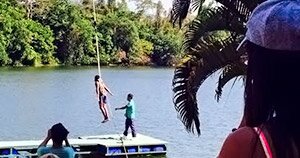 Catapult Bungy Jump
If the thought of leaping off a ledge the same height as a 15-storey building seems just a little too crazy to consider then perhaps the catapult bungy is for you.
 Sometimes known as a "reverse bungy" the catapult means you start on the ground and are catapulted into the air giving  most of the fun of a classic jump without the need to force yourself to leap from a great height.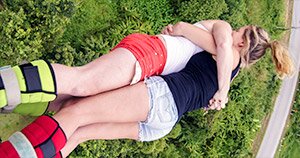 Tandem Bungy Jump
Another option is the tandem jump where two friends jump connected together. It can be a good way to help build up the courage to leap or it can just be a way to add to the fun and share a great moment with someone you like.
Any two bungy jump packages purchased can be specified as a single tandem jump . Any requests to do this can be made right up to the time of jumping.
Some More Bungy Information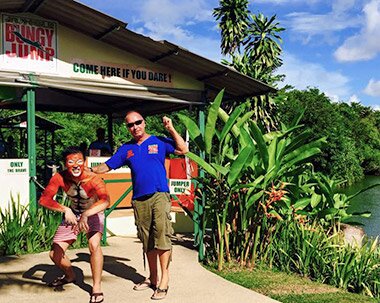 Bungy jump weight limits are : Min. 35kg | Max 235kg | catapult MAX is 82 kg.
Any bungy jump in any package can be combined with a friend who has also purchased a jump to form a tandem jump at no extra charge. This can be arranged by the crew on the actual day of jumping.
Any bungy jump can be specified as a catapult (start on the ground) if preferred. This also can be requested on the day. Note : MAX Weight for catapult is 82 Kg
The bungy jump platform is 50 metres (165 feet) above water.
A Jungle Bungy Jump Certificate of Courage is awarded to all jumpers including catapult customers.
Our crew will take digital photos and a DVD video of the whole jump process if selected packages are purchased.
We have a great viewing area with refreshments available.