Open from 9am Every Day
Last Jump Time is 5pm
Phone 076 321 351
For
Bookings & Pickup
from Your Hotel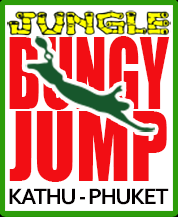 Jungle Bungy Jump,
61/3 Wichitsongkram, Kathu, Phuket 83120,
Tel: 076 321 351
(+66 76 321 351)
Groups and Team Building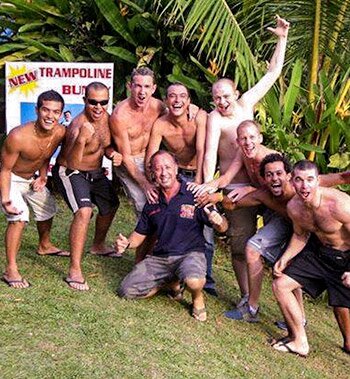 Doing a bungy jump is always exciting but when done as a group activity then the day can also take on quite a party atmosphere as one by one every member gets on a natural high by taking the big leap.
We have a very scenic viewing area where the group can enjoy a drink or two while watching friends attempt to overcome their fear 50 metres above. It would be safe to say no two people react quite the same ... some do it silently, some scream their lungs out and some just shout out the funniest things in the heat of the moment. When you know the people involved, watching bungy jumping can be almost as much fun as doing it yourself ! Its an excellent way to break the ice between team members.
The Jungle Bungy Jump can cater for groups of most sizes even if they turn up without booking although we do encourage organisers to contact us in advance to ensure two large groups do not clash which could lead to delays. This can be done by using the booking form, submitting an online enquiry or by phoning us direct on 076 321 351.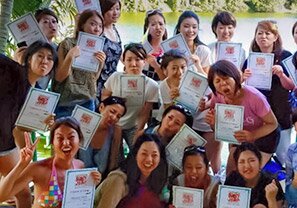 Bungy as a Team Building Activity
We often play host to large corporate team building and student groups looking for an activity that will be both fun and help bring everyone together as a team. We can't imagine anything that would fit the bill better than bungy jumping.
Whether the group is made up of people who have only recently met or perhaps people who only know each other from a work environment it does not take long before all are encouraging each other to go for it !
For most people overcoming their fear and doing a bungy jump will be an experience to treasure in itself. Sharing it with others can make it even more memorable and help build friendships that last long after.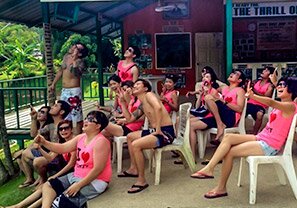 The Bungy Viewing Area
The Jungle Bungy Jump is in a simply stunning location next to a small lake and surrounded by thick tropical forest.
Our viewing area right next to the water and almost directly below the jumping platform is a very pleasant place to enjoy the jumpers antics . And even if nobdy is jumping its just a lovely, peaceful place to relax and take in the beautiful scenery well away from the noise of city traffic.
Seating and tables for a large number of people is available though some are just as happy to sit on the grassy waterside areas and enjoy the sunshine.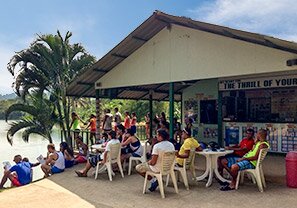 Refreshments and Facilities
Ice cold drinks including some popular beers are available at all times.
If required, we can arrange special catering for very large groups. If this is desired please contact us with details and we will respond within 24 hrs. Please note that for this service an advance payment would be necessary.
Facilities on site include ample parking large enough for several buses, showers and well-maintained toilet facilities.